What's On | Thursday 24th April 2014..
| | |
| --- | --- |
| ** Charity | Fundraisers Events ** | |

ANZAC Appeal
On ANZAC Day, ceremonies are held in towns and cities across the nation to acknowledge and remember the service of our veterans. Most of the funds are raised through the sale of ANZAC badges. The badges are available in different denominations fro.. More..

Drawtism | Play Pictionary for Autism
Drawtism is a fun fundraising concept that Alpha created and has been running since 2008. Utilising the game Pictionary, participants have a glimpse into the significant challenges experienced by people living with Autism. Like Alpha's essentia.. More..
---
| | |
| --- | --- |
| ** Children | Family Events ** | |

Acting, Drama & Public Speaking Classes
Super Speak run weekly drama skills classes for children aged 6 - 17 years. Our classes combine a structured and fun mix of practical drama skills (such role playing, script work, improvisation & characterisation) and speaking skills (such as voi.. More..

Easter Bunny Trail | Cooks' Cottage
The bunnies are on the loose at Cooks' Cottage and need your help to find their way home this Easter! Hop on down to Cooks' Cottage during the autumn school holidays and take part in the 'Easter Bunny Trail'. This is a fun, self-guided activity fo.. More..

Enchanted Maze Garden
Everyone from kids to kids-at-heart are invited to discover The Enchanted Maze Garden. The Enchanted Maze Garden is an award winning natural attraction nestled in the beautiful hinterland of Arthurs Seat. From humble beginnings, the Enchanted Maze.. More..
Show ALL 15 Children | Family Events
---

Circus Latino | Caulfield
Circus Latino is a dynamic and exciting show that thrills and captivates audiences of all ages. Featuring talented performers from Argentina and Australia, you will be amazed at our daring aerial acts, marvel at the tricks performed with fire, ho.. More..

Circus Royale | Hoppers Crossing
An International Daredevil and Multimillion Dollar Circus and Animal Spectacular under the Mighty Big Top!! Every seat a comfortable chair. Limited VIP and Ringside Chairs. Damian Syred's All New 2014 Circus Royale!! Aerial Daredevil John.. More..
---
| | |
| --- | --- |
| ** Comedy & Magic Events ** | |

Chris Taylor & Andrew Hansen: One Man Show
The Chaser's War On Everything made Andrew Hansen and Chris Taylor household names, in half a dozen houses belonging to people who already knew them beforehand. Everyone else knows them as 'those Chaser guys', or simply 'those pricks'. Now Chris a.. More..

Commedia Dell Parte | Stand Up Comedy
Thursday Night Comedy at The George Lane Bar, 1 George Lane, St Kilda. Every week we feature established Stand Up Comedians along side Melbournes best up and coming comedy stars. Commedia Dell Parte at The George Lane Bar feature up and coming .. More..

Five Boroughs Comedy
Melbourne's biggest top quality night of comedy is here! Every Thursday night, Five Boroughs Comedy (formerly Softbelly Comedy) has some of the biggest names in Australian comedy, in a funky inner-city surrounding. So far we've had Adam Hil.. More..
Show ALL 8 Comedy & Magic Events
---
| | |
| --- | --- |
| ** Community Events Events ** | |

Creative Corner
Community radio program on 88.9 WYN FM. Segments include Book Chat (1st Thursday of the month) Curtain Call (2nd & 3rd Thursday of the month) A modern Arts show with great music and guests. If you would like to be a guest please e-mail ta.. More..
---
| | |
| --- | --- |
| ** Competitions & Prizes Events ** | |

Win Your Dream Holiday
Where would you go if you won a Dream Holiday to the value of $8,000? Enter now and let Melbourne Public Bar & Restaurant in South Wharf make your holiday dreams a reality. .. More..
---
| | |
| --- | --- |
| ** Concerts | Music Events ** | |

A Concert of Tom Waits Songs
After a sell-out run in Manhattan, Arts Centre Melbourne presents Stewart D'Arrietta's acclaimed cabaret celebrating the music of Tom Waits. Described as "electrifying" by Variety, with "rock solid emotion" by The New York Times and "rollicking" .. More..

ANZAC Day @ Veludo
Massive line up Anzac Day Eve! We have live music followed by commercial house DJs from 9pm . Bar open from 4pm-3am. Anzac Day recovery session in the Garden Bar! Bar opens & music from 12pm .. More..

ANZAC Weekend Music Festival
A line up of live and local Melbourne artists performing from 2pm each day! Watch the annual Collingwood v Essendon ANZAC clash live on the screens. Free Entry | Riverside Location | $25 Budweiser Buckets | Shared Bites Menu For full artist li.. More..
Show ALL 27 Concerts | Music Events
---
| | |
| --- | --- |
| ** Conferences | Conventions Events ** | |

Monash Art Design & Architecture Seminar | Free
MADA (Monash Art, Design and Architecture) is throwing open its doors to the public for a range of informative and free discussions around art, design and architecture. At Monash seminar attendees will gain insight into courses and careers across.. More..
---
| | |
| --- | --- |
| ** Culinary | Wine & Dining Events ** | |
Dracula's Cabaret Dinner & Show
Bloodbath is an insane bouillabaisse of aerial acrobatics, suicide circus, mind-warping optical illusions and gender-bending, tummy clutching comedy! Bloodbath - The Show Submerge your senses and dive in for an evening of sensuous burlesque, slic.. More..

Food Trucks @ The Emerald Peacock
The Emerald Peacock is thrilled to announce a new culinary concept and collaboration. Experience the food truck phenomenon in our cocktail lounge or on the rooftop! It's fair to say that some of Melbourne's best grub now comes on wheels an.. More..

Grand Afternoon Tea
A traditional Grand Afternoon Tea is served daily at Grand Hyatt Melbourne a la carte on Monday – Thursday (2.30pm – 5pm) at $35pp. Grand Afternoon Tea (PDF) On Friday and the weekends, an extended dessert buffet with an incredible array of pa.. More..
Show ALL 10 Culinary | Wine & Dining Events
---
| | |
| --- | --- |
| ** Dance & Ballet Events ** | |

Lake | Dance Performance
Lake by Lisa Wilson Thursday 24 April – 8pm What lies beneath when we 'break the surface tension' of a relationship? Bold in its vision and deeply evocative, Lisa Wilson's Lake literally floods the entire performance area. This large square.. More..
---
| | |
| --- | --- |
| ** Exhibitions | Art & Photo Events ** | |

A Celebration of All Things Bright and Wonderful
A Celebration of All Things Bright and Wonderful Manyung at Sorrento 19 April - 11 May, 2014 113A Ocean Beach Rd Sorrento .. More..

Aboriginal Art Exhibition and Sale
After weeks of negotiations, we are delighted to announce The Sandpit's first exhibition – selected artworks from the Aboriginal and Modern Art Gallery of Australia's (AMAGOA) extensive collection. As well as representing over 60 artists from Cent.. More..

Animal Magnetism
22 March 2014 - 26 April 2014 Venue: Arts Project Australia Opening: 22 March 2014, from 3-5pm Animals can serve as a reminder to us of our primal beginnings; they remain elusive, mysterious and belong to a different world. People have long .. More..
Show ALL 63 Exhibitions | Art & Photo Events
---
| | |
| --- | --- |
| ** Exhibitions | Expo | Launch Events ** | |

A Conspiracy of Cartographers
A conspiracy of cartographers: a series of book sculptures Leading book sculptor Nicholas Jones created a fantastic new body of sculptural works inspired by the groundbreaking atlas Terrarum Orbis Theatrum by Abraham Ortelius (1574), as part of hi.. More..

A walk through French cinema
Photo exhibition of French cinema's biggest icons. On the occasion of the 25th anniversary of the Alliance Française French Film Festival, the Alliance Francaise de Melbourne is delighted to present a series of twenty-four portraits of some of the.. More..

Animal Art Studio
THE COMMUNITY COMES TOGETHER TO PRESENT THE ANIMAL ART STUDIO EXHIBITION Eastland is proud to announce that it will be the exclusive location for the Animal Art Studio Exhibition. The Animal Art Studio is an exhibition of life-size animals that ha.. More..
Show ALL 36 Exhibitions | Expo | Launch Events
---
| | |
| --- | --- |
| ** Festivals | Fairs Events ** | |

Dreamland | Theme Park Music Festival
Imagine a festival inside a Theme Park with unlimited rides and 5 stages featuring over 50 DJ's.. Fun Ticket & Infectious Entertainment present.. DREAMLAND - THEME PARK MUSIC FESTIVAL AT LUNA PARK 7PM - 1AM / THURSDAY APRIL 24TH - ANZAC DAY .. More..

Words by the Bay | Bayside Literary Series
New! 2014 Bayside Literary Series 'Words by the Bay' Friday 14 February - Monday 16 June In 2014 Bayside Library Service begins its exciting new program of literary events and workshops. Instead of a festival format as in previous years the .. More..
---
| | |
| --- | --- |
| ** Films Festivals & Showing Events ** | |

What's Showing @ IMAX
IMAX at Melbourne Museum provides you with the ultimate movie going experience on the world's 3rd largest screen. IMAX has reopened with a new screen, sound system and twin IMAX digital projectors. What's showing at IMAX this week --> BUG.. More..
---
| | |
| --- | --- |
| ** Fitness & Fun Events Events ** | |
Corporate Challenge | Lunchtime Sports
Want to incorporate fun, fitness and team building into your working week? These are only a handful of benefits that teams experience in the lunchtime sports competition, the Corporate Challenge. Sports on offer include netball, soccer, baske.. More..
---
| | |
| --- | --- |
| ** Group | Club Meetings Events ** | |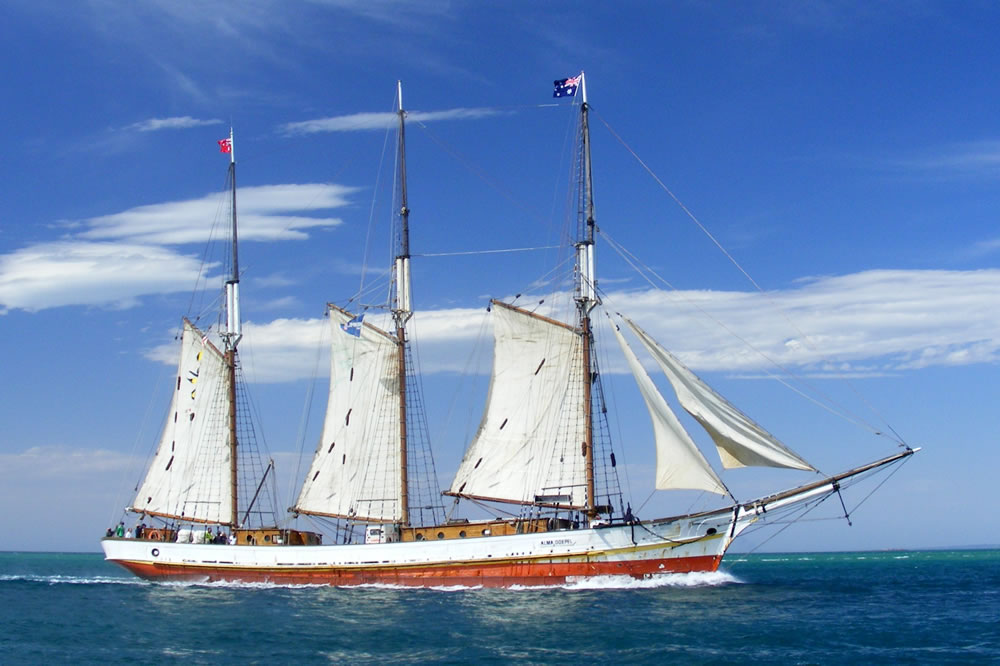 Alma Doepel Restoration Site
The Alma Doepel is a three masted topsail schooner, Australian built and operated, being restored at Docklands by members of the Alma Doepel Supporter's Club. The Alma Doepel Supporter's Club (ADSC) was founded in 1976 "to provide both physical an.. More..

Rotary Club of Collingwood
Rotary Club of Collingwood meets Thursday at 12-30pm for 1-00 pm Leinster Arms Hotel, 66 Gold Street Collingwood 3066. The Rotary Club of Collingwood distributes the "The Original" Plum Pudding, Whisky Cake and Shortbread Biscuit Project. This.. More..
---
| | |
| --- | --- |
| ** Historical Locations & Tours Events ** | |

Cooks' Cottage
Cooks' Cottage is rebuilt in the picturesque Fitzroy Gardens to commemorate the voyages of Captain James Cook, discoverer of Australia. James Cook was born on the 27th October 1728 in a thatched cottage at Marton-in-Cleveland which was demolished .. More..

Coolart Homestead
Coolart Homestead is a magnificent late Victorian mansion situated on the shores of Westernport. In the superb grounds are ever-changing wetlands that you can view from the observatory, and a lagoon where thousands of Australian white ibis nest every.. More..

Cooper's Settlement
Cooper's Settlement is located in the largest park in the Northern suburbs, Bundoora Park - 15 kilometres from the centre of Melbourne. When you visit the Settlement you can experience a variety of activities that children will want to revisit and fa.. More..
Show ALL 11 Historical Locations & Tours Events
---
| | |
| --- | --- |
| ** Markets | Art, Craft & General Events ** | |

Brunswick Market
Walk into 661 Sydney Road and walk into another experience that is hidden from the street – BRUNSWICK MARKET - a range of fresh food and products opens up to you as you browse the aisles, including: -:- fresh meat, chicken, fish; -:- a mini sup.. More..

Clayton Campus Market
The Clayton campus market takes place every Wednesday, Thursday and Friday in the courtyard at the northern end of the Campus Centre (building 10) at Clayton campus. A wide variety of stalls and products encompassing everything from clothing, fru.. More..

East Bentleigh Primary School Community Market
A wonderful community market held every Thursday* afternoon between 2.30pm and 4.30pm within the grounds of East Bentleigh Primary School. Market stalls include Fresh Organic Produce, handmade felt toys, jams and preserves, class fund raising stal.. More..
Show ALL 4 Markets | Art, Craft & General Events
---
| | |
| --- | --- |
| ** Markets | Farmers Food & Produce Events ** | |

Camberwell Fresh Food Market
Produce market selling meat, seafood fruit & vegetables. Great little market. Fresh highest quality produce from fruit & vegetables, seafood, poultry, meats & sausages to gourmet selection of delicatessen items from 5 different deli, superb illy'.. More..

Collingwood Estate Fruit and Vegie Market
The Collingwood Estate Fruit and Vegie Market runs every Thursday, rain, hail or shine, behind the Atherton Gardens Old Milk Bar. An innovative idea to set up two Community Food Markets has brought fresh fruit and vegetables to the residents of h.. More..

Footscray Market
Footscray Market is a large indoor market with a large range of produce and general goods opposite Footscray Railway Station. This frenetic covered food market is laden with seductive produce: you'll find lotus flowers, pigs' ears, coriander and .. More..
Show ALL 11 Markets | Farmers Food & Produce Events
---
| | |
| --- | --- |
| ** Museum & Science Events ** | |

ANZ Banking Museum
The ANZ Banking Museum is housed in the lower ground floor of the 'Gothic Bank' at 380 Collins Street, Melbourne. It was first opened in May 1985 to commemorate the 15Oth anniversary of the granting of a Royal Charter to the Bank of Australasia, .. More..

Australian Football Hall of Fame
The Australian Football Hall of Fame (AFHOF) was established by the AFL in 1996 to recognise and enshrine those who have made a significant contribution to the game. Footy fans can pay homage to these greats in the National Sports Museum at the Me.. More..
Australian National Aviation Museum
The Australian National Aviation Museum contains the finest collection of Australian made and designed aircraft, as well as the broadest collection, with representative types covering the development of air travel and military aviation within Austral.. More..
Show ALL 19 Museum & Science Events
---

B-24 Liberator Bomber Restoration
You are invited to call in and see the great restoration work being carried out on the B-24 Liberator by the many volunteers on Tuesdays, Thursdays and Sundays between the hours of 9:30am and 3:30pm. Restoring Australia's only surviving B-24 Liber.. More..

What's On in Yarra Valley
Browse all the fabulous things you can see and do while in the Yarra Valley wineries and breweries, beautiful natural scenery and walks, and great attractions! What's On Presented by Visit Yarra Valley and the Yarra Valley Visitor Information .. More..
---
| | |
| --- | --- |
| ** Parties & Social Events Events ** | |

Melbourne Social Drinks Night
End of Month Drinks Night | Come and enjoy a night of social drinks and networking usually held on the last Thursday of every month in Melbourne's CBD. Join Fun, Food and Friendship, Melbourne's best social group for our end of month social drinks.. More..
---
| | |
| --- | --- |
| ** Performing Arts | Theatre | Opera Events ** | |

Burlesque Cabaret @ Bohemia Club
At Bohemia, there is something for every taste, from the sublime to the ridiculous, the base to the refined. Laughter and horror, joy and tears, sin and sensuality. Music, Dance, Cabaret, Burlesque, Circus and Art for Art's sake! WEEKLY SHOWS THU.. More..

Erotic Alleluia
An erotic lace-paper valentine in a prologue and three scenes After a successful run with The Toothbrush in 2013, The Spanish Theatre Company will be staging its second theatre production, Erotic Alleluia, at The Mechanics Institute in Brunswick i.. More..

Imagine Nation Cabaret
Join this imaginative soul on an expressive journey through the highs and lows of being a child-like dreamer in a cut throat adult world. As the days get more and more serious, Kate desperately seeks ways to keep the soul alive and the imagination li.. More..
Show ALL 8 Performing Arts | Theatre | Opera Events
---
| | |
| --- | --- |
| ** Public Awareness Events ** | |
3000 Melbourne Magazine | April
With monthly issues distributed free to the public across Melbourne's CBD & Docklands 3000 Melbourne Magazine covers a diverse range of local news events high profile interviews as well as regular business and wellbeing sections. 3000 Melbourne M.. More..

Federation Bells
The delightful Federation Bells are located in Birrarung Marr park behind Federation Square in Melbourne. Federation Bells comprise 39 upturned bells cast in bronze alloys and range from 500 grams to 1.2 tonnes. Following a recent refurbishme.. More..

Grateful in April 2014
Thousands of people all over the world will embark on Grateful in April – a month-long, online campaign encouraging participants actively to seek out the good in their lives. It taps into a growing body of research suggesting that regularly pract.. More..
Show ALL 6 Public Awareness Events
---
| | |
| --- | --- |
| ** Sales | Special Offers Events ** | |

Tea Leaves | Half Price Tea Special
At Tea Leaves, Sassafras, we have teas and infusions on special to pique your interest and whet your appetite, but we change our specials every two weeks, so if you want to stock up on your favourite blends at 50% off, now's your chance! This fortnig.. More..
The Collector | Auction Night
With 30 years of experience in the antique and collectables industry The Collector is the only auction house holding collectable auctions on a weekly basis. Auctions held every Thursday evening at 6pm We have lots of collectables this week to c.. More..
---
| | |
| --- | --- |
| ** Seminars | Lectures | Talks Events ** | |

SAGE | Successful Aging, Growth and Enjoyment
The aim of SAGE is to encourage people over 55 to learn psychological insights to help them age more effectively and enjoyably. Sessions are $20 and include: A lecture defining the SAGE psychology of the topic for the day; A case study relate.. More..
---
| | |
| --- | --- |
| ** Sporting Fixtures Events ** | |

Anzac Day at Wharf Hotel
ANZAC DAY EVE - 24th April Start your public holiday early with live music from 4:30pm and an Aussie BBQ from 6:30pm ANZAC DAY - 25th April Watch the Essendon vs Collingwood game live on all the big screens. Grab a 'Wharf Classics' pub .. More..

Rip Curl Pro 2014
Witness legendary surfers carve it up at Victoria's famous Bells Beach, in the world's longest-running pro surfing contest. The Rip Curl Pro is the world's longest running and most prestigious professional surfing contest. The Rip Curl Pro will t.. More..
---

Model Railways & Collectables | Swapmeet
Melbourne's Premier Model Railway & Collectable Swap meets, Fairs, Sales & Exhibitions Melbourne's Largest Monthly Swap meet, 7.30pm (stallholders 6.45pm). Scout Hall, Mahoneys Reserve, Mahoneys Road, Forest Hill. Melways Map 62 C4. Admissio.. More..
---
| | |
| --- | --- |
| ** Television Shows Events ** | |

AFL Footy @ Channel 9
Channel 9 in Melbourne returns with its coverage of the 2014 A.F.L. Football season. Nine footy shows include.. --> Footy Classified (Mondays), --> Footy Show (Thursdays) @ 8.30pm | Sam's Mailbag, Street Talk & Almost Footy Legends --> Th.. More..

Audience Required | TV Shows
Television shows seeking studio audiences in Melbourne... Join the audience of the following television shows: ABC - Spicks and Specks - Join in the musical madness. Channel 7 - not at present Channel 9 - Millionaire Hot Seat | *FREE* T.. More..

The Project | Audience
It's the news – but not as you know it. Guaranteeing no miracle diets, no stories that 'no parent can afford to miss', and virtually no dodgy plumbers, The Project is a TV show joining in the conversations going on in living rooms around the country... More..
| | |
| --- | --- |
| ** Trips | Tours Events ** | |

A Very Fine Yarn | Creswick Woollen Mills
The Creswick Woollen Mills tourism experience "A Very Fine Yarn" showcases the journey of fibre; all the way from its source on the alpaca, through the manufacturing process and how it ends up on the shop shelf. The exhibit gives a great insight .. More..

African Food Tour
AFRICAN FOOD TOUR Join this 3 hour Melbourne African food tour and discover the unique blend of Indian, French, British, Egyptian and Turkish flavours that the cuisine is known for while taking in the sights and sounds of all the city's famous lan.. More..

Carlton & United Brewery Tour
Come behind the scenes at the home of Australia's favourite beers - Carlton Draught, VB, Pure Blonde, Foster's and more... Join our friendly guides for a fun and interactive tour of the country's largest brewery, where you can see how over 2 mill.. More..
Show ALL 21 Trips | Tours Events
---
| | |
| --- | --- |
| ** Trivia and Quiz Events ** | |

FAME Trivia
FAME Trivia runs trivia nights Monday through Thursday full of questions, music and audience participation that creates a competitive and fun-filled environment. Mondays Time Host Arcadia Hotel, South Yarra 8:00 PM Louise Crawford Excelsior .. More..

Funky Bunch Trivia Night
Funky Bunch trivia nights in Melbourne... Check out all the current venues running weekly pub trivia nights in Melbourne. Monday night trivia The Joint Bar – 8pm pub trivia 35 Elizabeth St, Melbourne (03) 9620 5100 The Hawthorn 8pm 48.. More..

Melbourne Trivia | Quiz Night
Melbourne Trivia Co host Melbourne's most popular trivia quiz events. Melbourne Trivia has a reputation for presenting funny and enjoyable trivia events around Victoria. We're proud that the most frequent comment we hear about our events is how pr.. More..
Show ALL 9 Trivia and Quiz Events
---
| | |
| --- | --- |
| ** Workshops | Classes & Clinics Events ** | |

Affordable Unconventional Wine Tasting Courses
Appreciating wines the fun way with WineKAKI WineKAKI offers unconventional wine tasting courses in Melbourne that ensure you have a fun time discovering wines beyond Australia. As our courses are only 2 hours long, we emphasizes on fun of wine a.. More..

Creativity Australia | With One Voice
No matter what age you are or what language you speak, singing offers opportunities to learn, grow, and express who you are. Share the joy of song at your local With One Voice choir. There are no auditions – everyone is welcome! Rehearsals are led.. More..

Introductory Wine Course
Enjoy wine but know little about it. Want to learn about wine but not sure where to get that knowledge? Well here is the answer. Blake's Feast presents one of Australia's most respected and knowledgeable wine experts and educators in Grant Van E.. More..
Show ALL 4 Workshops | Classes & Clinics Events
---
| | |
| --- | --- |
| ** Worship | Faith | Spiritual Events Events ** | |

Regular Buddhist Meditation and Talks
Are you looking for an opportunity to learn more about Buddhism and meditation? Come and join us for our regular buddhist meditation sessions every Tuesday and Thursday at the Diamond Way Buddhist Meditation Centre at Albert Park beach. Every s.. More..
---
| | |
| --- | --- |
| ** Zoological & Farms Events ** | |

Ballarat Wildlife Park
The Ballarat Wildlife Park is the brainchild and dream of Mr Greg Parker who moved to Ballarat to open his own Wildlife Park based upon his love of Australian native animals and reptiles and his extensive experience in the zoo industry. The Park open.. More..

Collingwood Children's Farm
Situated on 7 hectares of land just 4 kms from Melbourne's CBD, the Collingwood Children's Farm provides a unique, educational and fun country experience for city folk. The Farm provides inner city children and their families access to animals, a.. More..

Gulf Station
Yarra Valley's Pioneer Working Farm Gulf Station began in the 1840's as part of a 25,000 acre run known as the Gulf. The Bell family began their lives here in the late 1840's and the homestead and outbuildings are a part of the legacy that the fa.. More..
Show ALL 8 Zoological & Farms Events
---